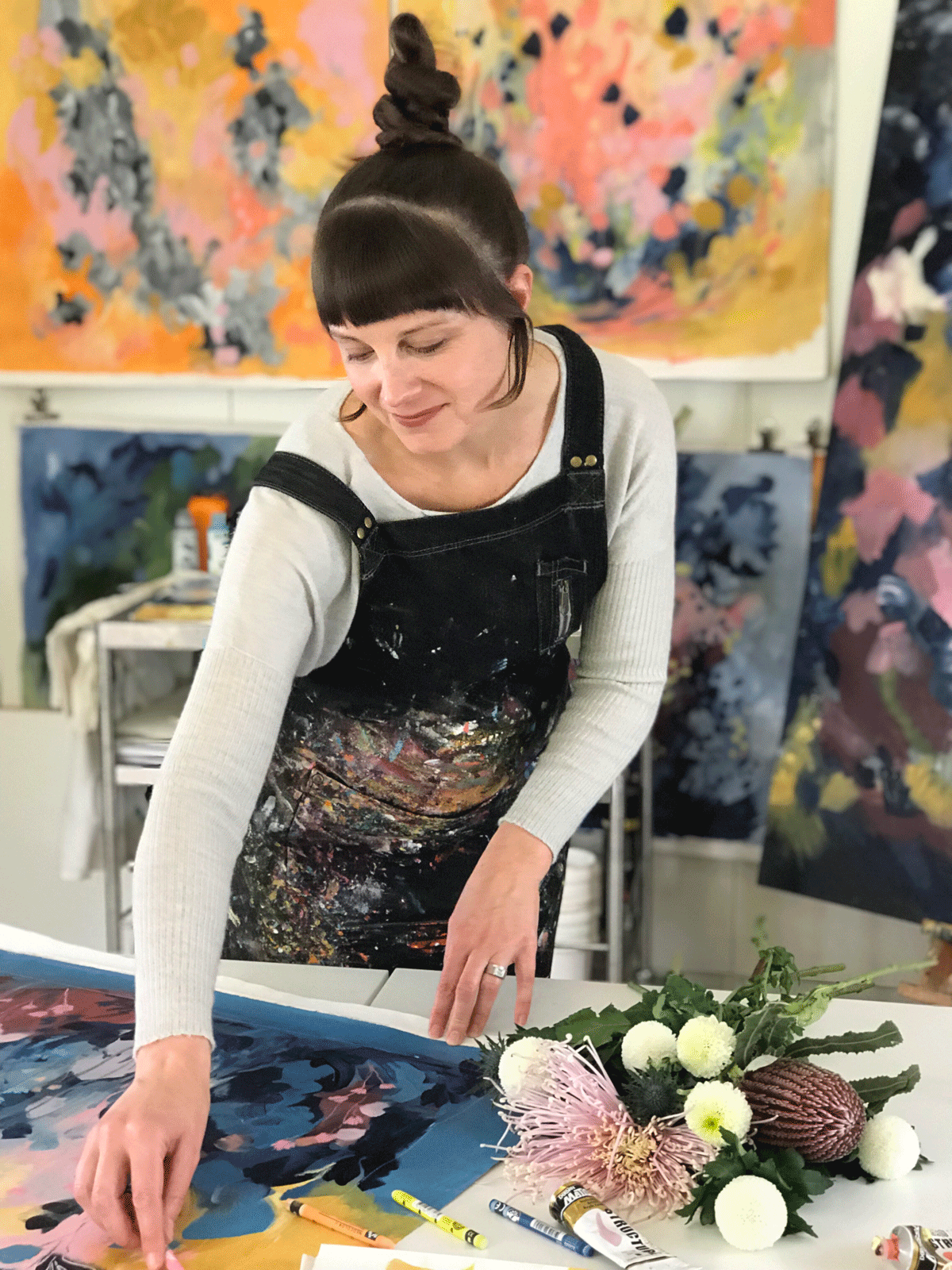 Join Me For An Intimate In-person Workshop
In My 1860's Home Studio
Welcome To My Studio!
In this one-day live workshop, you will join me in my home studio along with no more than five other creatives for an intimate learning experience inside the space where my art is made and my art business runs.
In the early days of my own painting journey, I craved the intimate, insider-knowledge of how a thriving art studio worked. I wanted to see, touch and smell every detail of what worked for them in their professional art practice and why.
Because, even though I couldn't quite admit it to myself at the time, a professional artist was what I dreamed to be. I was lucky enough to have a few creative and brilliant friends that allowed me to step inside their studio and what I learned was invaluable.
This is what my studio insider workshops are all about – a chance to share my knowledge and open up my work-space to fellow artists and curious creatives wherever they happen to be on their creative journey. During this luscious day of creative, hands on exploration you will have the opportunity to paint with my materials and tools, giving you and inside look at how I paint and work as an artist in my everyday life.
Not only will you be receiving hands-on instruction in my painting style, you will be in my studio, amongst the commissions, series and projects I am currently working on. And you get to pick my brains about all of it.
We will work in a similar rhythm to the way that I do in my own art practice working on both heavy cotton paper and canvas, all supplied by me. Throughout the day we will progress through our layers on our rotating substrates while the previous layers dry. You will take home three paintings, one of which will be on a 20" x 30″ canvas.
This workshop is 100% suitable for both beginner and experienced painters, and many inexperienced artists have left feeling surprised in what they have achieve in just one day.
When:
This is a one-day live workshop that runs between 10am and 5pm.
It is an intimate experience limited to just 6 people per workshop.
For available dates, please click the link below.
Where:
The workshop will take place in my studio at my home in Soldiers Hill, which is an inner-city suburb of historic Ballarat. It is just 90 minutes from Melbourne and easily reached by train, bus or car. There are many lovely accomodation options available close by. You will be given my street address along with some accomodation suggestions in the welcome back you receive upon registration.
* We ask that you advise us of any dietary requirements in the registration form you will fill out at the checkout.
** Please note that we will be eating lunch at a local café which is not included in the price. They offer Gluten Free and Vegetarian meals. Please email us about any other dietary requirements.
I will be sharing lots of information on:
How to prepare and work on both paper and canvas (including un-stretched canvas)

Colour theory and colour mixing.

Composition

Exploring different mixed media techniques such as oil and wax pastels, stencils and paint pens.

Working in a series, why this works, and how to sell it.

How I navigate my commission painting process (including getting clients, creating commission proposals, creating studies and much more)

My easy method of taking Insta-worthy photos and how to collate them into effective social media strategy.

How I sell and ship work both domestically and overseas.
What you will have access to:
Professional quality Acrylic paints

Sennelier Oil Pastels

Caran d'Ache Watersoluble wax pastels

100% Cotton, Archival 300gsm watercolour paper

Painter's tape

One 20" x 30" Artist's finest cotton heavy duty stretched Canvas

Coffee, Tea and Snacks*
What you need to bring:
An Apron (or something else to keep you clean)

A selection of Brushes (which I will email you about)

Your curiosity and enthusiasm.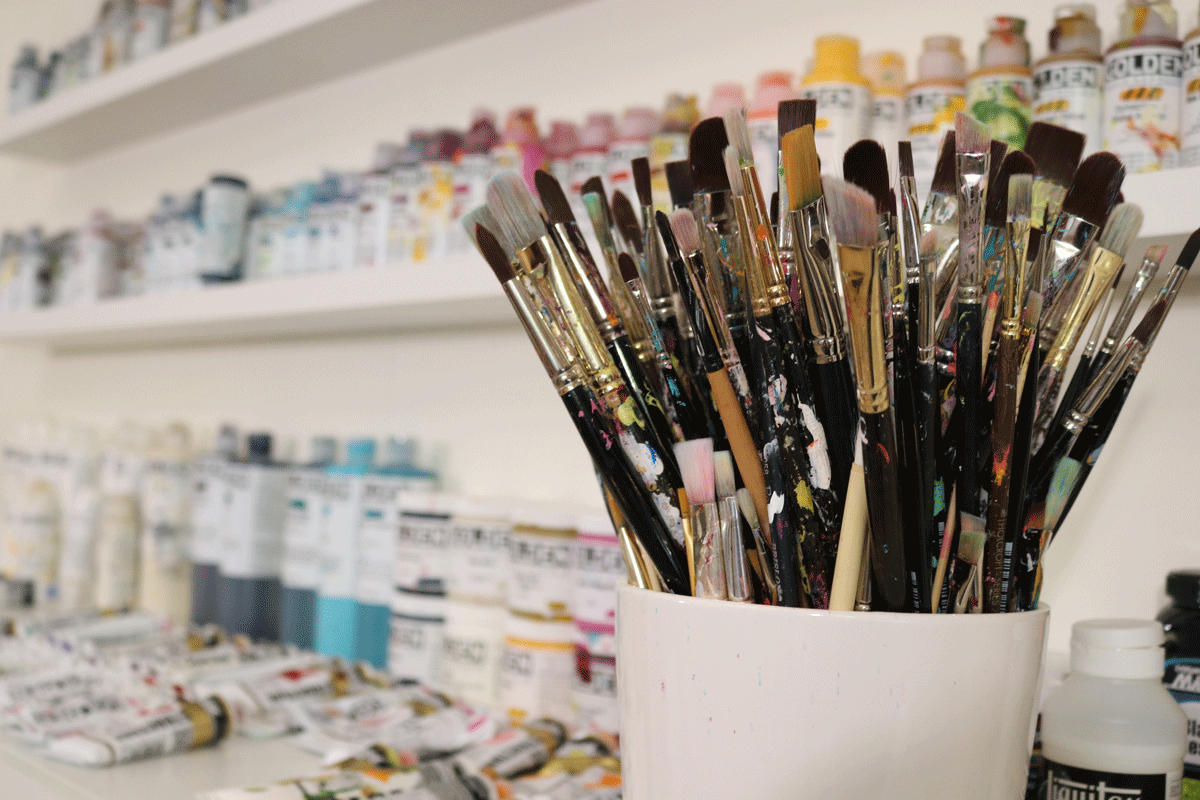 "A massive thank you for what was, without a doubt, the best art day ever!! I was blown away by the welcome into your beautiful home and the incredibly relaxed, but professional atmosphere. The day went by quick as a flash, without ever feeling rushed or overwhelmed. I think it was because l was having so much fun! Also, there was an abundance of top quality materials, knowledge and support. I felt extremely lucky to be part of a wonderful group of like minded, gorgeous souls! I feel totally inspired and equipped to continue on my art journey Thank you so so much".
"I loved how comfortable Susan made everyone feel in her home, and studio space, we were all so warmly welcomed. There was so much calm and encouragement in the room. As a beginner painter, I felt incredibly comfortable (which surprised me a little) I thought I would be stepping out of my comfort zone for a day, but Susan made me feel very much 'at home' and gently shared her knowledge and encouragement, and instilled confidence in me. Thank you Susan for a wonderful opportunity!!"
FAQ's
"Is this workshop appropriate for beginners?"
Yes! Absolutely! The processes that I will be teaching are very accessible to people at all levels of painting experience. Those with little or no experience will be guided through my processes from the beginning. And those with more experience will have the freedom to play with my techniques and mix them in with their own. This is the advantage of having a small group – everyone gets the personal attention they require for where they are at. All levels of experience are most welcome.
"Is this workshop appropriate for an experienced/professional artist"
It sure is. Part of what I wanted to create with this workshop is an opportunity for those who wish to sell their work, or would like to sell more of it, to have a detailed look into exactly how I do that. I will be showing you many of my professional tips on making work that sells, using surfaces that are easily shipped worldwide, getting commissions and keeping customers happy. And also lots of tips on how to make all this happen through social media. This day is going to be full of information gems for the aspiring professional artist and also fascinating to those who are simply curious about how it all works.
"This workshop is a bit more of a financial investment than I have seen for other one-day workshops, why is that?"
Yes, it is and there are a few reasons for this. Most one-day art workshops are about the technique and processes of painting alone. This workshop is entirely unique in that I will be teaching all those things, along with giving you extremely valuable information about the entire internal workings of my studio. You have all my best professional practices served up to you on a platter. You will also having the finest quality art supplies provided for you, and we all know that they do not come cheap! With my experience as a creative coach for many years, I know how hard it can be for emerging artists to find their way professionally. This class will give you many valuable insights into creating a thriving art business. This workshop is exceptional value for money.
"I can't come to either of these workshops, will you be running any more later in the year?"
Yes we will. Please join the mailing list below and we will be sure to keep you in the loop about up-coming dates. Please get in touch by email if you have any enquiries.
"I'd like to do a workshop that is longer than one day, do you have any of these planned?"
Not at this stage. But we are open to hearing about your thoughts on what you would like to see happen in the future.
"Are you planning on teaching this workshops interstate or overseas?"
I'll be keeping close to home this year and the the Studio Insider Workshop is likely to be my only in-person teaching workshop available for 2019.